***NEW FOR THE 2013-14 SCHOOL YEAR!!!***
Zangle Parent Connect will become...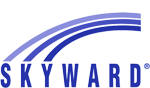 All Parent Connect accounts will be disabled on June 30th.
Look for your Skyward Username and Password via U.S. Mail in late August!!!!
Welcome to ECSD's Parent Connect & PaySchools Website
Zang!e's ParentConnection is a web application that provides parents with direct access to student data via the Internet. Using a confidential PIN (personal identification number) and password, parents can connect to the school district's student database using a web browser and view their child's data, such as progress reports, attendance records, report cards, transcripts and more. ParentConnection allows the parent to view, in one session, data on all their enrolled dependents in the same district, across multiple school sites.
To sign up for an account, print and fill out the Registration Form and mail it to the address listed on the form. Once it is received and processed your ParentConnection PIN and Password will be mailed to you.
Note: You must ENABLE (Allow) "Pop Ups"

for Parent Connect to Open

If you have any questions please review the

Frequently Asked Questions document first

If you still have questions, please fill out

the online Help Request Form

Student Data Link Descriptions

Make Payments Online!

East China School District is pleased to bring you the online convenience of our new school meals payment processing system, PaySchools. This program allows you to make payments online via e-check or credit card at your convenience from our school's Web site.

To use Payschools, you must login to Parent Connect first. If you need a Parent Connect account, click on the Registration Form link and follow the instructions.

After you have logged in to the Zangle Parent Connection website, click on "Cafeteria" to enter the school meals section of the program. Once you are in this section, click on the "Food Service Account Payments" link to access PaySchools.

A $3 convenience fee will be charged on each transaction. This fee is passed through from PaySchools.

Note: The first time you access PaySchools, you will be asked to create a username and password.
Revised: 05/17/2013